Dear A,
I will be carrying out mini 'fieldwork' in Vienna for ten days. The only formalised agenda is to reflect what I discover there. Can you imagine partaking in one of your own projects without a research question? Be a curious and uninformed observer! Even my inability to interact in the Austrian German language is a condition of this. 'To observe', the French film critic & theorist Andre Bazin suggested, 'involves attending to the world – actively, passionately, concretely – while, at the same time, relinquishing the desire to control, circumscribe or appropriate it.' In the discipline of anthropology at present, there seems to be critical attitude towards observation – considered as not engaging with (human) subjects but objectifying them. Not 'humanistic' enough. I'm not dismissive of the concern but feel the need to identify for myself what observation can be. Aren't there varying ways to think of observation? The kind of observation Bazin suggests – to understand things for what they are not in service of understanding the observer self – projects a sign of humility. Observation – visual or aural – can help provide different insights into the subject, not bounded by but preceding language, ideas and meaning. But, practically how?
In Charlie Kaufman's 2008 film Synecdoche, New York, the main character Caden has failed to stage a theatre bringing out the flux of life as it is, despite the entire cast devoting their lives to this production. It was never quite 'real' enough for his satisfaction. The tragic uselessness of the perfectly accurate 1:1 map is only imaginable in Borges' short story On Rigour in Science. For Caden, the sheer tragedy was the impossibility of the map. This leads to the detached recording machine: the automatic and non-discriminative reflection of the apparatus. Bazin again says, 'the camera cannot see everything at once but it makes sure not to lose any part of what it chooses to see'. On my way to Café Prückel after my arrival at the Vienna airport, I took out my phone and snapped this image Phone picture2222.jpg. It confirms my memory of the long-haired man in front of me resting his hand on the back of his head in a peculiar gesture wearing blue shirts that matches the colour of the seat; in addition, it with no intent reveals the full white bearded man in the back looking out of the window, and he becomes available to us.
More soon,
J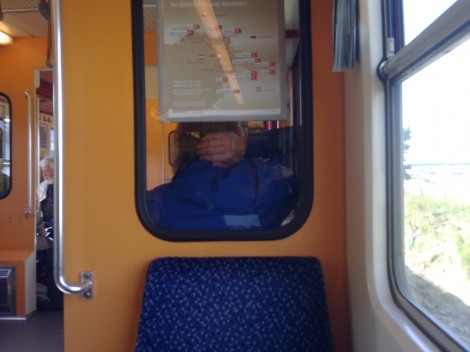 Text & Image: Hyun Jin Cho
This is part of the Dear A text series in the frame of DIE VIELEN ARCHIVE! / THE MANY ARCHIVES!.
/
Liebe A,
Für 10 Tage werde ich eine "Minifeldforschung" in Wien machen. Die einzige formelle Anordnung, die es gibt, ist darüber zu reflektieren, was ich dort entdecke. Kannst du dir vorstellen in einer deiner eigenen Projekte ohne einer Forschungsfrage teilzunehmen? Sei eine neugierige und uninformierte Beobachterin! Sogar mein Unvermögen in Deutschösterreichisch zu interagieren ist eine Voraussetzung dafür. "Zu beobachten", laut dem französischen Filmkritiker und -theoretiker André Bazin, "beinhaltet an der Welt –aktiv, leidenschaftlich, greifbar– teilzunehmen und dabei gleichzeitig den Wunsch sie zu kontrollieren, umzuschreiben oder sich anzueignen, aufzugeben." In der Disziplin der Anthropologie scheint es zur Zeit eine kritische Haltung gegenüber Beobachtung zu geben – sie gehe nicht auf die (menschlichen) Subjekten ein, sondern objektiviere sie. Nicht genug "humanistisch". Ich weise diese Bedenken nicht zurück, dennoch verspüre ich aber das Bedürfnis für mich herauszufinden was Beobachten sein kann. Gibt es nicht eine Vielzahl an Möglichkeiten über Beobachtung zu reflektieren? Die Art der Beobachtung, die Bazin vorschlägt –Dinge so zu verstehen wie sie sind und das Andere als das Andere– entwirft ein Zeichen der Bescheidenheit. Beobachtung –visuelle oder auditive– kann verschiedene Einblicke, die nicht durch Sprache, Ideen und Sinne begrenzt sind, in das Thema geben. Aber wie?
In Charlie Kaufmans Film Synecdoche, New York von 2008, ist es dem Hauptdarsteller Caden nicht möglich ein Theater zu inszenieren, dass den Fluß des Lebens wie es ist herausbringt, auch wenn die gesamte Besetzung ihr ganzes Leben der Produktion widmet. Es war nie ganz "real" und genug für seine Zufriedenheit. Die tragische Nutzlosigkeit der perfekt-akkuraten 1:1 Karte ist nur in der Kurzgeschichte Von der Strenge der Wissenschaft von Borges vorstellbar. Für Caden war die Unmöglichkeit der Karte die Tragödie. Diese führt zum freistehenden Aufnahmegerät: die automatische und nichtdiskriminierende Reflexion des Apparats. Bazin sagt, dass "die Kamera nicht alles auf einmal sehen kann, aber es macht sicher, dass es keinen einzigen Teil von dem, was auswählt, verliert." Auf meinem Weg zum Café Prückel, nach meiner Ankunft am Flughafen Wien, nahm ich mein Handy zur Hand und machte dieses Bild picture2222.jpg. Es bestätigt meine Erinnerung an den langhaarigen Mann vor mir, der seine Hand auf der Rückseite seines Kopfes in einer besonderen Geste stütze, und ein blaues T-Shirts, dessen Farbe zum Sitz passte, trug. Außerdem offenbart das Bild ohne jeder Intention den vollweißen, bärtigen Mann im Hintergrund wie er aus dem Fenster schaut, und er wird wahrnehmbar für uns.
Bald mehr,
J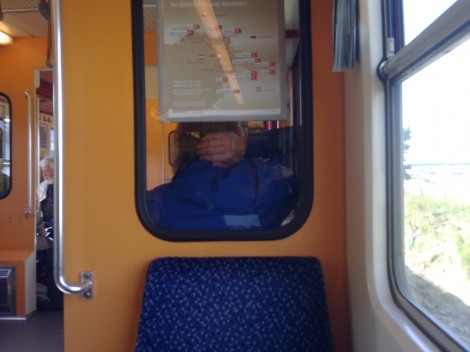 Text und Bild: Hyun Jin Cho
Übersetzung: Nina Höchtl
Dieser Brief ist Teil der Dear A Textserie im Rahmen von DIE VIELEN ARCHIVE! / THE MANY ARCHIVES!.