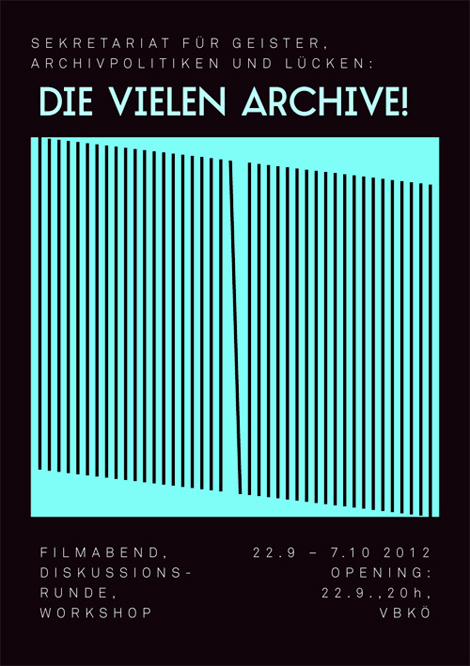 Während der WIENWOCHE organisierte das Sekretariat für Geister, Archivpolitiken und Lücken sein erstes Programm "Die vielen Archive!", das mit einer Festveranstaltung mit Musik aus dem "Open Music Archive" eröffnete. Mit u.a. der Ausstellung "The Brilliant and The Dark – Frauen und Archive, Kollaboration und Reenactment, Kapital und Copyleft" von Eileen Simpson & Ben White, einer Diskussionsveranstaltung, einem Workshop und einem Filmabend wurden feministische Archivpolitiken aus den sich überschneidenden Bereichen Kunst, Wissenschaft und Aktivismus vorgestellt und diskutiert.
Zudem lud das Sekretariat Hyun Jin Cho ein, um in der Rolle der Außenseiterin über das Projekt zu reflektieren. Ihre Voraussetzung, weder mit den/der Gechichte(n), den Gewohnheiten noch der Sprache der Stadt Wien und der VBKOE vertraut zu sein, verspricht unerwartete und kühne Einblicke. Jin ist ein Künstlerin, dessen Arbeiten die Wechselwirkungen zwischen verschiedenen sozio-linguistischen Gruppen und alternativen Narrationen von Objekten erforschen. Ihre Texte sind in diesem Blog unter Dear A gepostet.
Konzept und Organisation: Nina Höchtl und Julia Wieger
/
During the WIENWOCHE the Secretariat for Ghosts, Archival Politics and Gaps organized its first program "THE MANY ARCHIVES!", which was presented with a party and music from the Open Music Archive. Among others, the exhibition "The Brilliant and The Dark – Women and Archives, Collaboration and Reenactment, Captial and Copyleft" by Eileen Simpson and Ben White, a discussion round, a workshop and a film evening presented and discussed feminist archival politics from the intersecting worlds of arts, science and activism.
The Secretariat has also invited Hyun Jin Cho to take on the role of an outsider to reflect the project. The condition of her being unfamiliar with the histories, customs and language of the city of Vienna and the VBKOE is hoped to bring unexpected and bold insights. Jin is an artist whose work explores the reciprocity between different socio-linguistic groups and the alternative narratives of objects.  Her texts are posted in this blog under Dear A.
Concept and organisation: Nina Höchtl und Julia Wieger