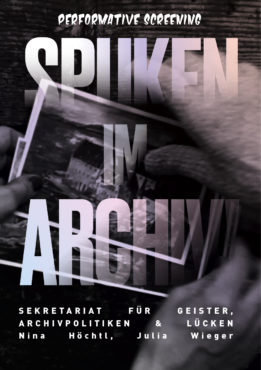 Im Juli 2016 stellt das Sekretariat für Geister Archivpolitiken und Lücken (SKGAL) mit einer Reihe von performativen Screenings das Projekt SPUKEN IM ARCHIV! vor:
Ort I: Künstlerhaus Büchsenhausen
Weiherburggasse 13/12
6020 Innsbruck
Dienstag, 5. Juli 2016, 19.00 Uhr
Ort II: FÜNFZIGZWANZIG
Residenzplatz 10
5020 Salzburg
Mittwoch, 6. Juli 2016, 18.30 Uhr
Ort III: [esc] medien kunst labor
Bürgergasse 5
8010 Graz
Freitag, 8. Juli 2016, 21.00 Uhr
Ort IV: das weisse haus
Hegelgasse 14
1010 Wien
Dienstag, 12. Juli 2016, 19.00 Uhr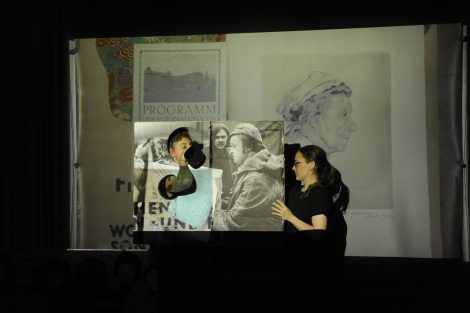 SPUKEN IM ARCHIV!, [esc] medien kunst labor, Fotografie / photography: Maryam Mohammadi
SPUKEN IM ARCHIV! ist ein Film- und Rechercheprojekt des SKGAL, das sich kritisch mit der*n Geschichte*n und dem Archiv der Vereinigung Bildender Künstlerinnen Österreichs (VBKÖ) auseinandersetzt.
SKGAL ist eine Arbeitsgruppe der VBKÖ, eine Institution, die 1910 gegründet wurde und eine der ersten Organisationen in Europa war, die die Interessen von Künstlerinnen vertrat. Während die feministischen Anfänge der Vereinigung, auch aus zeitgenössischer Perspektive, eine beeindruckende und wichtige Referenz darstellen, ist/sind die Geschichte*n der Vereinigung ambivalent: 1938 hatte sie sich dazu entschlossen mit dem Nationalsozialistischen Regime zusammenzuarbeiten, und nach 1945 gab es über mehrere Jahrzehnte keinen offensichtlichen Bruch mit den alltäglichen Routinen und personellen Besetzungen der Vereinigung während der Zeit des Nationalsozialismus. Die inhaltliche Ausrichtung der Vereinigung änderte sich erst spürbar Ende der 1990er Jahre, als es im Vorstand der VBKÖ zu einem klaren Generationenwechsel kam. Mit der veränderten Ausrichtung einher wurde 2004 das Archiv der Vereinigung gegründet und die Vereinigung begann sich im zeitgenössische feministischen Kunstkontext in Wien zu involvieren.
In diesem Zusammenhang stellt SKGAL die Frage, wie in einer selbstorganisierten Künstlerinnenvereinigung Geschichte*n geschrieben werden kann/können? Wie kann eine Vereinigung, die heute zeitgenössische feministische künstlerische Agenden pflegt, eine lebendige Verbindung zwischen historischen Auseinandersetzung und heutigen queeren und feministischen Kunstproduktionen herstellen? Und wie kann sie das mit künstlerischen Mitteln tun?
Mit den performativen Screenings SPUKEN IM ARCHIV! lädt SKGAL dazu ein, den Geistern der VBKÖ zu folgen, und mit ihnen gemeinsam das Material im Archiv der Vereinigung neu zu betrachten, und es Diskussionen und Interpretationen auszusetzen. Für dieses Projekt eignet sich SKGAL historisches Bild- und Textmaterial aus dem Archiv an, weist auf Lücken hin, ordnet Material um, und stellt ein Vielzahl von Verbindungen her. Es spuken Geister durch Orte, Stimmen und Bilder und zeigen Strategien und die Macht der Geschichte*n auf. Gemeinsam mit den Geistern widerspricht SKGAL eindeutigen Festschreibungen der Geschichte und versuchen stattdessen die Geschichte*n im Archiv zu aktualisieren, die Blicke auf seine Materialien zu verschieben. So wird es möglich, dass die Archivarin Sabine Harik, die das Archiv der VBKÖ zusammengestellt hat, die Philosophen Jacques Derrida und Michel Foucault, das feministische Künstlerinnennetzwerk INTAKT, die Kunsthistorikerin Julie M. Johnson, die Kulturwissenschaftlerin Kate Eichhorn und die Künstlerin VALIE EXPORT zusammenkommen, um die* Geschichte*n einer alten Künstlerinnenvereinigung herauszufordern!

/

In July the the Sekretariat fur Geister, Archivpolitiken und Lücken (Secretariat for Ghosts, Archival Politics and Gaps – SKGAL) will present the project SPUKEN IM ARCHIV!/HAUTINGS IN THE ARCHIVE! through a series of performative screenings:
SPACE I: Künstlerhaus Büchsenhausen
Weiherburggasse 13/12
6020 Innsbruck
Tuesday, Julya 5, 2016, 7 pm

SPACE II: FÜNFZIGZWANZIG
Residenzplatz 10
5020 Salzburg
Wednesday, July 6, 2016, 6:30 pm
Ort III: [esc] medien kunst labor
Bürgergasse 5
8010 Graz
Friday, July 8, 2016, 9 pm
Ort IV: das weisse haus
Hegelgasse 14
1010 Wien
Tuesday, July 12, 2016, 7 pm
HAUNTINGS IN THE ARCHIVE! is a film and research project by SKGAL which deals critically with the hi/herstory/ies and archive of the Austrian Association of Women Artists (VBKÖ).
SKGAL is a working group of the VBKÖ, an institution that was founded in 1910 as one of the first organizations in Europe that represented the interests of women artists. While the feminist origins of the association provide an impressive and important point of reference – and this includes contemporary perspectives – the hi/herstory/ies of the association are ambivalent: In 1938 the VBKÖ committed to cooperation with the National Socialist regime. Furthermore, over the several decades following 1945, it did not break away from its everyday routines and personnel which stemmed from National Socialist period. A radical change in the direction of the subject matter and content finally took place in the late 1990s through a clear generational shift of the VBKÖ's board. Hand-in-hand with the new direction, the VBKÖ established its archive in 2004 and began its involvement in the contemporary feminist art context of Vienna.
In this context, SKGAL asks how hi/herstory/ies can/could be written in a self-organized women's artist association. Moreover, how can an association which now fosters contemporary feminist artistic agendas establish a vital connection between historical debates and contemporary queer, feminist art productions? And how can it do so with artistic means?
Through the performative screenings, HAUNTINGS IN THE ARCHIVE!, SKGAL invites you to follow the ghosts of the VBKÖ, and to join them in reconsidering the material in the archive of the association in order to challenge it through debates and interpretations. For this project SKGAL will appropriate historical images and textual material from the archive, it will indicate gaps, reclassify material, and bring about a variety of connections. In the project, ghosts haunt places, voices and images, and they show strategies as well as the power of hi/herstory/ies. Along with the ghosts, SKGAL aims to contradict the unequivocal consolidations of history and will thereby attempt to update the hi/herstory/ies in the archive in order to shift views on its material. This way it is possible for the archivist Sabine Harik, who compiled the archive of the VBKÖ, the philosophers Jacques Derrida and Michel Foucault, the feminist artists network INTAKT, the art historian Julie M. Johnson, the cultural scientist Kate Eichhorn and the artist VALIE EXPORT to come together in order to challenge the hi/herstory/ies of an old association for women artists!
Gefördert aus den Mitteln von / Funded by SHIFT.