Das VBKÖ Archiv als Ort der politischen Konfrontation oder Wie wird widersprochen?
Lecture performance (in Englisch): SEKRETARIAT FÜR GEISTER, ARCHIVPOLITIKEN & LÜCKEN (Nina Hoechtl und Julia Wieger, Forschungsassistenz: Lisa Burgdorf)
Diese Lecture performance konzentriert sich auf die Aktivitäten in den 1970er Jahren eines Frauenkunstraumes in Wien, der 1910 gegründet wurde und heute noch aktiv ist: Die Vereinigung bildender Künstlerinnen Österreichs (VBKÖ).
Die VBKÖ setzte sich anfänglich für die künstlerischen, wirtschaftlichen und bildungspolitischen Interessen von Frauen in der Kunst ein und mietete einen Raum in der Wiener Innenstadt, wo sie heute noch zu finden ist. Trotz der fortschrittlichen Anfänge beschloss die Vereinigung 1938 mit dem NS-Regime zu kollaborieren. Aus der Sicht der entstehenden feministischen Kunstbewegung in Wien in den 1970er Jahren war die Vereineinigung in Vergessenheit geraten. Die VBKÖ war jedoch auch in den 1970er Jahren aktiv, es ist jedoch nicht klar welchen Aktivitäten sie nachging. Wer waren ihre Mitglieder? Haben internen Diskussionen über eine postnazistische Position stattgefunden? Gab es Kontakt zu den lokalen feministischen Kunstbewegungen? Wir setzen uns mit Raum der VBKÖ auseinander, der unbemerkt und parallel zu den feministischen Bewegungen bestand, um sowohl herauszufinden wie wir ihn heute noch einnehmen können als auch wie eine historische Methode auch eine politische Intervention in der Gegenwart sein könnte.
/
The VBKÖ's Archive as a Site of Political Confrontation or How to Sing Out of Tune?
Lecture performance: SEKRETARIAT FÜR GEISTER, ARCHIVPOLITIKEN & LÜCKEN (Nina Hoechtl and Julia Wieger, research assistant: Lisa Burgdorf)
This lecture performance focuses on the 1970's activities of an all women art space in Vienna, which was founded in 1910 and is still active today: The Vereinigung bildender Künstlerinnen Österreichs (Austrian Association of Women Artists, VBKÖ).
The VBKÖ initially campaigned for the artistic, economic and educational interests of women in the arts and rented a space in the center of Vienna, where it still is today. Despite its progressive beginnings, the association decided to collaborate with the Nazi regime in 1938. From the perspective of the nascent Viennese Feminist Art Movements in the 1970's, the association had fallen into oblivion. Nevertheless, it was active in the 1970's – it is just not clear what these activities were about. Who were the members? Did internal discussions about a post-Nazi position take place? Was there any contact to the local Feminist Artist Movements?
We look at the space of the VBKÖ that existed unnoticed and in parallel to the feminist movements in order to not only figure out how we can still inhabit it today but also how a historical methodology might also be a political intervention into the present.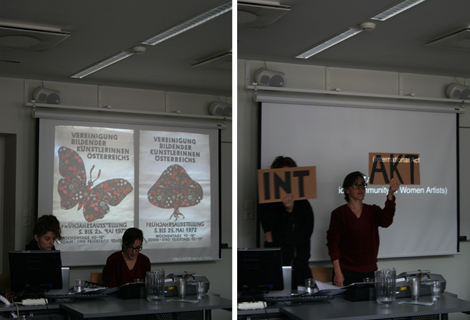 Die / The lecture performance "The VBKÖ's Archive as a Site of Political Confrontation or How to Sing Out of Tune?" wurde im Rahmen der / was presented at the Fourth Biennial Conference of the European Network for Avant-garde and Modernism Studies UTOPIA EAM 2014 (University of Helsinki, August 29-31, 2014) präsentiert.
ALL WOMEN ART SPACES AS HETEROTOPIAS
Saturday, 30th of August, 1:30-4:45pm
One of the important elements of the women's art movement emerging in the 1970s was the creation of all women art spaces. They existed for a longer period of time or just during one exhibition or even one performance. They were to offer an alternative to the unfriendly reality of male-dominated art world and aimed at creating an environment where women artists could address the experiences of women. The most famous of them – Womanhouse (Los Angeles 1972) – has already been thoroughly analysed. This panel seeks to explore much lesser known women art spaces functioning in different European countries. Its focus will be on the 1970s but proposals that deal with initiatives that were undertaken later are also invited. Papers are expected to analyse ideas, forms of their implementation and effects of these diverse heterotopias. The panel chair's proposal to characterise all women art spaces as heterotopias is to be discussed.
AGATA JAKUBOWSKA (chair), ADAM MICKIEWICZ UNIVERSITY, POLAND:
INTRODUCTORY REMARKS
MONIKA KAISER. SA, GERMANY:
"KVINDEUDSTELLINGEN PA CHARLOTTENBORG" IN COPENHAGEN 1975 AND THE IDEA OF FEMINIST ART SPACE
KATY DEEPWELL. MIDDLESEX UNIVERSITY, UK:
WOMAN'S PLACE AND OTHER 1970S FEMINIST ART INITIATIVES IN BRITAIN
KATHLEEN WENTRACK. THE CITY UNIVERSITY OF NEW YORK, USA:
1970S FEMINIST PRACTICE AS HETEROTOPIAN: THE STICHTING VROUWEN IN DE BEELDENDE KUNST AND THE SCHULE FUR KREATIVEN FEMINISMUS
KATIA ALMERINI. INDEPENDENT SCHOLAR:
WOMEN'S ART SPACES: TWO MEDITERRANEAN CASE STUDIES
JULIA WIEGER. ACADEMY OF FINE ARTS IN VIENNA, AUSTRIA, AND NINA HOECHTL. NATIONAL AUTONOMOUS UNIVERSITY OF MEXICO, MEXICO:
THE VBKÖ'S ARCHIVE AS A SITE OF POLITICAL CONFRONTATION OR HOW TO SING OUT OF TUNE?