IM ZWISCHENRAUM – Das Archiv und seine Geister insistieren
Lecture performance
Die VBKÖ (Vereinigung bildender Künstlerinnen Österreichs) wurde vor über 100 Jahren als eine der ersten feministischen Künstlerinnenvereinigung Europas gegründet und durchlebte trotzt ihrer progressiven Anfänge sehr widersprüchliche und politisch fatale Phasen.
In dieser Lecture performance sollen die Beziehungen zwischen künstlerischer Praxis und Theorie anhand des VBKÖ-Archivs untersucht werden: Wie kann sich eine künstlerische Praxis als Forschung im Archiv manifestieren, und wie kann das Archiv als eine Form von kritischer Praxis verstanden werden? Wie kann den Archivalien dazu verholfen werden auch in der Gegenwart kritische und sinnliche Erfahrungen zu provozieren?
Ein Zwei-Kanal-Projektion zeigt eine Folge von Ausschnitten des einzigen Gruppenfoto der Mitglieder des VBKÖ in den 1930er Jahren. Während sich die Details und Nahaufnahmen von Händen und Taschen, von Menschen, die sich anschauen oder in der Kamera blicken, oder von einem unscharfen Hintergrund der Bäume, verändern, präsentieren wir einen Dialog über die Geschichte der Vereinigung, ihres Archivs und wie wir uns auf beide beziehen. Zeitweise korrespondieren die Bilder und der Text direkt miteinander, und manchmal fördern sie Assoziationen, die offensichtlich Lücken lassen, um Raum für Spekulationen zu eröffnen.
/
IN THE SPACE BETWEEN – The Archive and Its Ghosts Insist
Lecture performance (in German)
The VBKÖ (Austrian Association of Women Artists) was founded over 100 years ago as one of the first feminist artists associations of Europe and, despite their progressive beginnings, they went through very contradictory and politically fatal phases.
In this lecture performance the relations between artistic practice and theory are analyzed through the VBKÖ archive: How can an artistic practice manifest as research in the archive, and how can the archive be understood as a form of critical practice? How can the records be enabled to also provoke critical and sensual experiences in the presence?
A two-channel projection shows a sequence of cutouts of the only existing group photo of the members of VBKÖ during the 1930s. While the details and close-ups of hands holding bags, people looking at each other or into the camera, or a blurred background of trees change we present a dialogue about the association's history, the history of its archive and how we relate to both. At times the images and the text correspond directly to each other, and sometimes they foster associations that leave obvious gaps in order to open up space for speculation.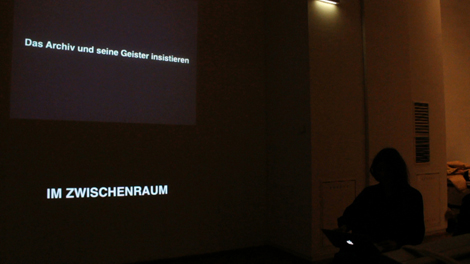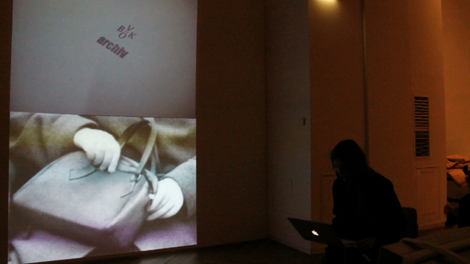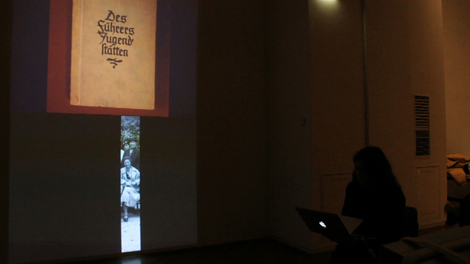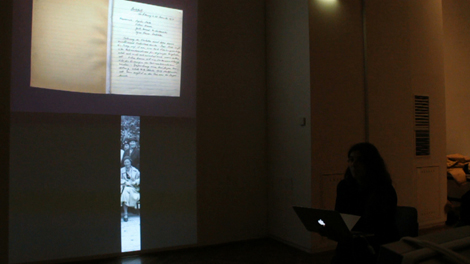 Die / The lecture performance wurde im Rahmen von / was presented at OUT OF THE BOX. 10 Fragen an künstlerische Forschung / 10 Questions about Artistic Research (Lecture-)performances zu undisziplinierter Wissensproduktion / about Undisciplined Knowledge Production präsentiert.
Museum of Applied Arts, MAK
December 17, 2013 at 6pm
18:30 – 19:00 Uhr
Juliane Laitzsch
Beutezüge an den Rändern des Gegenstandes
18:45 – 19:30 Uhr
Helge-Björn Meyer, Katja Richter
Karl Marx: DAS KAPITAL. Ein Arbeitsprozess
18:45 – 19:05 Uhr
Benedikt Dekan, Marc Eidler, Nadine Schuller
Staub
19:00 – 19:40 Uhr
Sekretariat für Geister, Archivpolitiken und Lücken (Nina Hoechtl, Julia Wieger)
Im Zwischenraum – Das Archiv und seine Geister insistieren
19:15 – 19:45 Uhr
oellinger/rainer und Alice Neusiedler
Die Regeln der Kunst – ein Echtzeit Fragebogen
19:30 – 20:00 Uhr
Nina Herlitschka
Performance als kuratorische Praxis
19:30 – 19:50 Uhr
Benedikt Dekan, Marc Eidler, Nadine Schuller
Staub
19:45 – 20:30 Uhr
gruppe uno wien, Claudia Slanar, Seth Weiner, Albert Allgaier
denken, sprechen, handeln (pause)
19:45 – 20:15 Uhr
Doris Stelzer
hansi and me
20:00 – 20:30 Uhr
Judith Engel & Fides Schopp
Stell dir vor es ist Revolution und niemand geht hin, weil alle sind beim Urban Gardening
20:15 – 20:45 Uhr
Martin Krenn
Feld-Herren revisited
21:00 – 21:45 Uhr
Katja Stecher, /ecm Kuratorin
Zum kuratorischen Konzept des Open Call, im Anschluss offene Diskussionsrunde
18:30 – 21:45
Sichtbarmachung weiterer (Lecture-) Performances, die im Rahmen des Open Call zu undisziplinierter Wissensproduktion eingereicht wurden