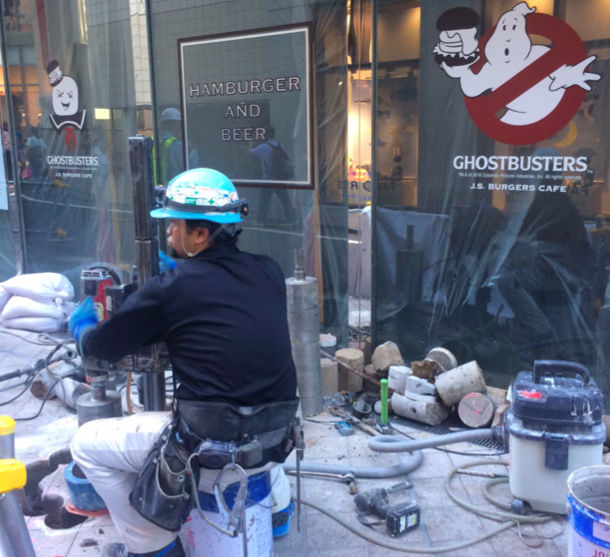 Emergency Ectoplasmic Exodus, Rejected Material (Take 4)
SAT, JUNE 8, 2019
3-6pm

The Kitchen, 512 West 19th Street, 10011 New York
CONTRIBUTORS: Todd Ayoung, Stephanie Deumer, Ectoplasmic Materialism, Gregory Sholette and Sekretariat für Geister, Archivpolitiken und Lücken.
In the 1989 film "Ghostbusters II" a river of pink slime runs through the sewers beneath First Avenue. It is composed of the negative human emotions of New York, the residual waste products and dark matter of everyday life, worries, debts and work. The slime is ectoplasm, an emotionally-reactive substance that fuels the manifestation of specters.
This event aims to explore the potentials and pitfalls of this dark matter and ectoplasm, materials that make up the bulk of artistic activities but exist in the shadows of and haunt the formal art world, and its history. The event will therefore be looking at approaches towards invisibilized histories, potential connectivities and solidarities within the broader social factory enabled by these notions, and how they might be used as a collective artistic material. When the slime of art history and production has been pushed out of sight beneath the social factory floor, what spectral traces can still be seen or dug up? What happens when these ghosts have been exposed?
Contributions include a spectral appearance by the theorist Gregory Sholette discussing, ten years after publication, his book "Dark Matter", which still holds an important position as an analytical tool, not only for highlighting invisible parts of the art world, but also for pointing out that they are crucial to its very reproduction. Secretariat for Ghosts, Archival Politics and Gaps will present their practice, that involves uncovering historical gaps and looking at dark matter from a feminist perspective, most recently in the exhibition "Dark Energy. Feminist Organizing, Working Collectively". The artist Todd Ayoung will offer concrete examples of both his personal and collective artistic and activist practice, while exploring the relation between the "blackout" and dark matter. Stephanie Deumer will present her recent video "Spooky Action at a Distance", which traces the objectification of women through their disembodiment and discusses and how past norms are literally amplified through new technologies, and the collective Ectoplasmic Materialism will offer some thoughts on the crossovers between the spiritualism movement of the early 1900s with women's empowerment and conceptual art practices from a feminist-marxist perspective.

Emergency Ectoplasmic Exodus, Rejected Material (Take 4) is part of Whitney Museum of American Art Independent Study Programme and will be hosted at The Kitchen.