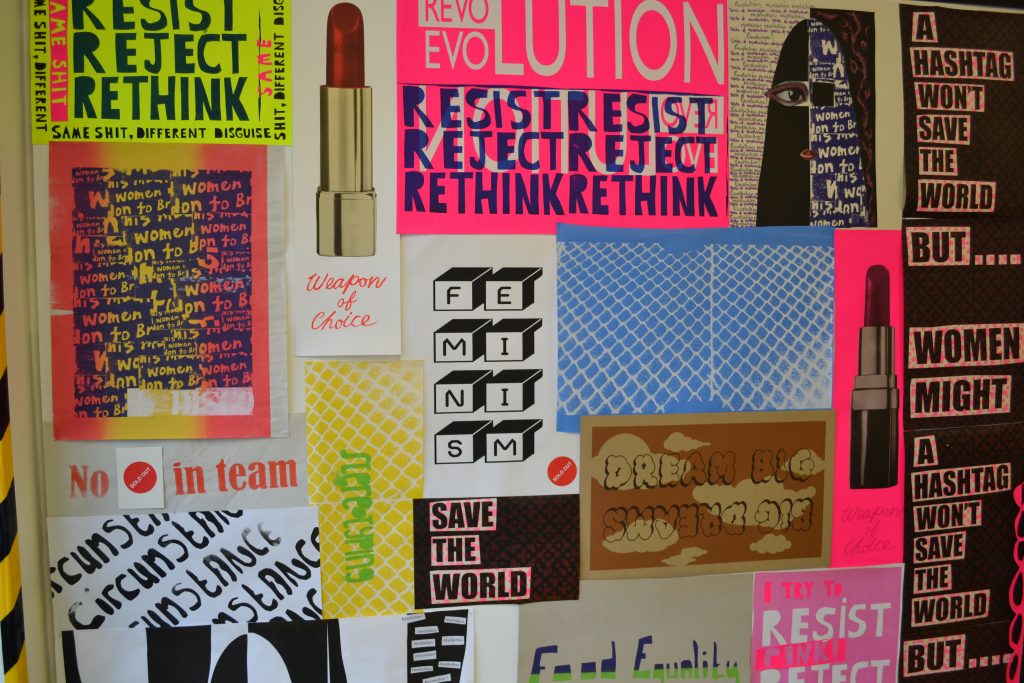 DUNKLE ENERGIE. Feminisch organisieren, kollektiv arbeiten I DARK ENERGY. Feminist Organizing, Working Collectively
Eröffnung I opening: 28.03.2019, 7.00 p.m.
Ausstellungsdauer I exhibition duration: 29.03.2019 – 25.05.2019
Ort I Venue: xE – Ausstellungsraum der Akademie der bildenden Künste Wien, Eschenbachgasse 11, Ecke Getreidemarkt, 1010 Wien
AUSSTELLUNGSBOOKLET I EXHIBITION BOOKLET
Wie das All besteht die Welt der kulturellen Produktion zum größten Teil aus dunkler Energie und Materie.[1] Diese unsichtbaren Massen und Bewegungen bilden sich aus spontanen, amateurhaften, autonomen, aktivistischen, selbst-organisierten kollektiven Praktiken, die für feministische Kulturarbeit eine wesentliche Rolle spielen. Dabei handelt es sich auch um die un- oder unterbezahlte Arbeit jener, die sich bewusst der Sichtbarkeit entziehen oder keine andere Wahl haben, als unsichtbar zu bleiben. Es ist die unsichtbare dunkle Materie, die den kulturellen Bereich am Laufen hält!
DUNKLE ENERGIE. Feministisch organisieren, kollektiv arbeiten setzt sich mit feministischen Formen der Organisation und Wissensproduktion im Kulturbereich auseinander. Sie rückt die visuellen, materiellen und performativen Eigenschaften feministischer Zusammenarbeit in den Vordergrund. Die Ausstellung geht der Frage nach, wie diese Organisations- und Produktionsweisen von ihren ökonomischen Bedingungen beeinflusst werden und was in diesem Zusammenhang politisch zu wanken beginnt. Welche Formen kreativer dunkler Materie und produktiven dunklen Wissens können wann, wo und wie praktiziert, produziert und verbreitet werden?
Die Ausstellung vereint ein breites Spektrum von Versuchen, die sich diesen Fragen in unterschiedlichen Kontexten und zeitlichen Zusammenhängen widmen. Durch die Arbeit der involvierten Künstlerinnen, Archivarinnen, Designerinnen und Aktivistinnen, bietet die Ausstellung aus feministischen, queeren und dekolonialisierenden Perspektiven Einsichten in die Kräfte, die mit den Kunstinstitutionen und -organisationen und innerhalb ihrer Strukturen kollidieren.
I
Like the universe, the realm of cultural production consists mostly of dark energy and matter.[1] These invisible masses and movements form from spontaneous, amateurish, autonomous, activist, self-organized, collective practices that play an important part for feminist cultural work. This is also a matter of the unpaid or underpaid labor of those who deliberately shun visibility or have no choice but to remain invisible. It is the invisible dark matter that keeps the cultural sector going!
DARK ENERGY. Feminist Organizing, Working Collectively explores feminist forms of organization and knowledge production in the cultural sector. It gives center stage to the visual, material and performative characteristics of feminist collaborative practices. It asks how these forms of organization and production are influenced by their general economic setup and what begins to sway politically in this context. Which forms of creative dark matter and knowledge can be practiced, produced, and disseminated when, where, and how?
The exhibition brings together a diverse range of efforts that tackle these questions in different contexts and times. Through the work of the participating artists, archivists, designers, and activists the exhibition provides insights from feminist, queer, decolonizing perspectives into the forces that collide with(in) art institutions and organizations.
Kuratorinnen I curators: Véronique Boilard, Andrea Haas, Nina Höchtl, Julia Wieger
Teilnehmer_innen I participants: Felicity Allen; Anti*Colonial Fantasies – Imayna Caceres, Sunanda Mesquita, Sophie Utikal; Chantal DuPont; ff. Feministisches Fundbüro; Martha Fleming und Lyne Lapointe; Vera Frenkel; Anne Golden; Althea Greenan; Minna Henriksson; Belinda Kazeem-Kaminski; Annette Krauss and the shifting team at the Casco Art Institute; lamathilde; Tanya Mars; Diane Poitras; Anne-Marie Proulx; Martha Rosler; Ego Ahaiwe Sowinski; Sekretariat für Geister, Archivpolitiken und Lücken; Vidéographe; Joyce Wieland; Aida Wilde
---
[1] Gregory Sholette, Dark Matter. Art and Politics in the Age of Enterprise Culture (London: Pluto Press, 2011).