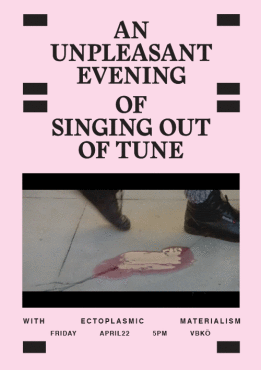 An Unpleasant Evening of Singing Out of Tune
in English with Ectoplasmic Materialism
We are sitting in rooms, different, but perhaps not unlike the one you are in now. We are floating on a river of emotionally-charged pink slime. We are thinking about the things we want to play back in the VBKÖ, and the things we want to sing, the voices we want to connect with. We are reading letters from the 100-year old archive — we too are buried in work, and are trying to climb out collectively by listening for the spectral resonant frequencies of living and dead labour, the invisible work that constructs our surroundings; and by seeing the possibilities of solidarity through the cracks and tears in history and in the social factory floor.
We want to present some key concepts and ideas that were explored in previous workshops in the form of chants, songs, joyous laments, séances, and summonings of dark matter.
Ectoplasmic Materialism is an amalgamation of energies and apparitions that currently work as punctuation managers and sometimes translators; as care workers and artist's assistants; and as non/emerging and submerging artists in Vienna and København.
Funded by SHIFT.
/
Ein unbequemer Abend des Unstimmig seins
in Englisch mit Ectoplasmic Materialism
Wir sitzen in Räumen, die vielleicht anders sind als der Raum, in dem du dich gerade befindest. Wir treiben auf einem emotional aufgeladenen rosa schleimigen Fluss. Wir denken über Dinge nach, die wir in der VBKÖ wiedergeben möchten, nach und über Dinge, die wir singen möchten, über Stimmen, mit denen wir uns verbinden möchten. Wir lesen Briefe aus dem 100 Jahre alten Archiv — auch wir sind in Arbeit vergraben und versuchen gemeinsam herauszuklettern indem wir nach den spektralen Resonanzfrequenzen lebender und toter Arbeit lauschen, nach unsichtbarer Arbeit, die unsere Umgebungen konstruiert, und indem wir in den Rissen und Sprüngen in der Geschichte und auf dem Boden der sozialen Fabrikshalle nach den Möglichkeiten der Solidarität suchen.
Wir wollen einige Konzepte und Ideen präsentieren, die in den vorangegangenen Workshops in Form von Gesängen, Liedern, freudigen Wehklagen, Séancen und Beschwörungen der dunklen Materie erforscht wurden.
Ectoplasmic Materialism ist eine Amalgamierung von Energien und Erscheinungen, die derzeit als Satzzeichenmanager arbeiten und manchmal als Übersetzer; als Pflegepersonal und Künstlerassistent; und als auftauchende und untertauchende Künstler in Wien und Kopenhagen.
Gefördert aus den Mitteln von SHIFT.