Spazieren gehen im VBKÖ Archiv
Sekretariat für Geister, Archivpolitiken und Lücken mit
Cana Bilir-Meier, Maren Blume, Andrea Haas, Ipek Hamzaoglu, Elke Krasny, Ruth Lang, Juliane Saupe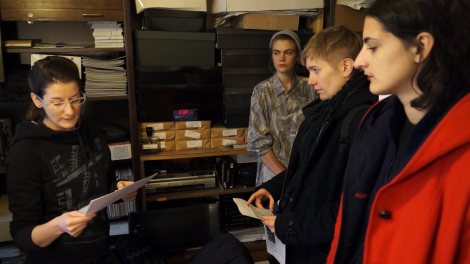 Spazieren gehen im VBKÖ Archiv, VBKÖ, 2015, Filmstill, Kamera: Liesa Kovacs & Nick Prokesch
Was für eine Rolle spielt die Struktur der Räumlichkeiten in der*n Geschichte*n der VBKÖ? Ist es von Bedeutung, dass sich die Vereinigung seit 103 Jahren kontinuierlich im Dachgeschoss befindet? Dass sie gegenüber der Oper liegt? Dass heute vor der Haustüre die Tourist*innen vorbei strömen? Dass der Wert der Immobilie in den letzten Jahren immens gestiegen ist?
Welche Handlungsräume erlaubt das Format der großbürgerlichen Wohnung, in dem sich die VBKÖ eingemietet hat? Was machen Ausstellungen, Vorträge und queere Performances in einem großen, weißen Wohnzimmer mit Blick auf den Stephansdom?
Welche Formen von Sichtbarkeit und Verstecken ermöglichen die Räume? Welche sozialen Beziehungen und Freundschaften ergaben/ergeben sich durch die räumlichen Gegebenheiten und ihre Performanz? Welche Kompliz*innenschaften gab und gibt es mit den Räumlichkeiten? Zu welchen Herrschaftsverhältnissen, Unterwerfungen, Solidaritäten und Kooperation hat er beigetragen? Und welche Beziehungen sind dokumentiert?
Im Rahmen von VBKÖ PRESENTS… des Open Studio Day der Vienna Art Week 2015.
/
Walking Through the VBKÖ Archive
Secretariat for Ghosts, Archival Politics and Gaps with
Cana Bilir-Meier, Maren Blume, Andrea Haas, Ipek Hamzaoglu, Elke Krasny, Ruth Lang, Juliane Saupe
In the her/history/ies of the VBKÖ, what role does the structure of its premises play? Is it significant that the association has been continuously in the attic since 103 years? That it is located in front of the opera? That today tourists pass by the front door of the building? That the value of real estate has risen immensely in recent years?
What scope of agency grants the format of an upper middle-class apartment? What do exhibitions, lectures and queer performances do in this large, white living room with a view to the St. Stephen's Cathedral?
What forms of visibility and hiding do these spaces allow? What social relationships and friendships result from the spatial conditions and their performance? What forms of complicity have been taking place in the premises? To which power relations, subjugations, solidarities and cooperation have they contributed? And which relationships have been documented?
Gefördert aus den Mitteln von / Funded by SHIFT.